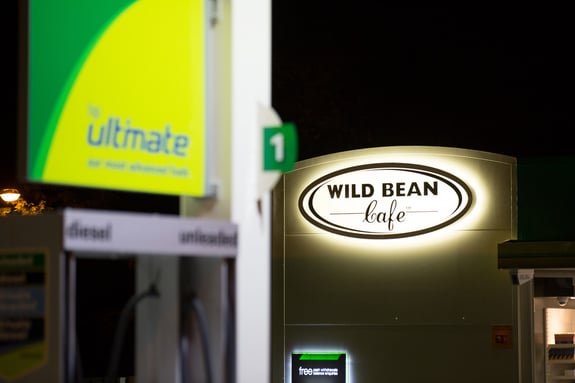 How bp uses Checkit to improve in-store production and reduce waste at its Wild Bean Cafés
Overview
Ensuring the consistent quality of food-to-go services across a vast network of sites was a priority for bp's retail operations.
To meet the needs of customers, managers wanted to ensure optimum provision of high-quality products, safely and in line with brand standards. But they wanted to do so in the most efficient way, by mapping food production against demand patterns.
The work of small, busy and widely-dispersed teams is crucial to successful service delivery but separate spreadsheets and assorted paperwork made it difficult to accurately assess operational activity, pick up on any issues and coordinate best practice.
Checkit enables bp to define processes and roll them out across all sites, while gathering real-time data on key performance metrics. Detailed insight enables managers to see what's working and what's not – so that regular checks and practices can be adjusted and optimized.
With real-time operational data flowing between frontline stores and management, bp has reshaped service delivery in a way that was not previously possible.
The challenge
Delivering the right product at the right time
The provision of hot food-to-go across a vast network of sites has become an important contributor to the commercial performance of bp's retail operations in the UK and overseas.
Since the first Wild Bean Café opened in 2000, hot food-to-go and coffee have become a key component of bp's retail offering at bp's company-owned forecourts across the UK.
In recent years, the Wild Bean Café has also expanded into bp outlets globally.
Consumers' appetite for high-quality and convenient food and beverages that can be purchased on-the-go has made this an increasingly important area of bp's retail business.
But underlying the delivery of a quick and convenient service to customers is a complex operational ecosystem.
Success depends on providing customers with the right products at the right times. In this case, customers may visit at any point during the day or evening and they expect to be able to choose from a range of high-quality items that are ready to go.
Managing availability is vital. And when products have a limited shelf-life it's important to prepare sufficient stock to meet customer needs without over-producing and driving up waste. At the same time, products have to be served to a consistent standard in a safe and appealing environment that aligns with the brand reputation.
This combination of requirements creates challenges for in-store teams – and even greater challenges for centralised managers trying to coordinate activity across a large estate.
Geographic and operational distance created blind spots that left national and regional leaders without detailed, timely insight into the daily processes underpinning the provision of food-to-go.
Was food production and availability matching demand?
How much wastage was occurring due to product expiry?
How quickly could operational problems be identified and addressed?
Were safety and quality checks being performed at the necessary level?
How accessible was evidence of regulatory compliance?
What changes could be implemented to improve efficiency and optimise the customer experience?
"The data Checkit provides bp is instrumental in providing the right products at the right time to meet our customer expectations."
Hannah Barnes
VP Operational Excellence Europe and Southern Africa
The Solution
Optimised food production 24x7x365
Checkit addressed the need for greater visibility and control over operations with its digital process management and monitoring tools.
The Checkit solution was rolled out to all UK sites within 10 weeks - and has since been expanded to additional countries.
Checkit's platform enabled the businesses to define a customised set of processes and checks in digital format and roll them out across the entire estate via Checkit's interactive mobile app.
The Checkit system prompts, guides and captures the individual steps involved in routine processes such as cleaning, food preparation, equipment checks and store opening or closing procedures. Around 11,000 processes are now being fulfilled daily by frontline teams.
The seamless integration of sensors widens the span of the solution. Measurements from wireless temperature sensors and handheld probes, covering both refrigerated and hot-hold units, provided the business with a valuable audit trail to support food quality and safety.
Monitoring provides an assurance that products are prepared, stored and served at the correct temperature within set timeframes before expiry. The system also liberates frontline staff from having to perform regular manual checks – which are not easily fulfilled within small, diverse and fast-moving teams experiencing busy periods. As a result, staff can devote more time to customer service.
Live data from all sites is immediately available to management teams via cloud-based dashboards. Without any complex coding or technical hurdles, the business gained real-time insight and the ability to apply logic and rapidly improve processes.
Unpredictable customer interactions, manual checks and separate spreadsheets had previously made such analysis impossible.
By accounting for both scheduled and unscheduled tasks, with start and end times clearly reported, Checkit opened new insights. Stock levels, adherence to standards, demand patterns and productivity all came under the scope of the system.
Detailed insight enables data-driven decision making, rapid remedial action on any issues and a platform for processes to be adjusted and improved on a continual basis.
Key performance metrics can be applied to benchmark and compare locations.
The Outcome
Real-time actionable data that empowers decision-makers to continually optimize production
Live, actionable data empowers decision-makers to continually optimise the customer experience in the most efficient way.
The intuitive composition of the app ensured BP's frontline staff quickly absorbed it into their daily work. Without disrupting their day, the Checkit solution reminded them of key tasks and logged completion, eradicating the burden of daily paperwork.
Managers benefited from real-time data so that variation or errors could be immediately identified for corrective action. A better understanding of demand patterns enables food production to be planned more accurately to minimise wastage.
At a strategic level, the granular business intelligence delivered by Checkit gave the business unprecedented insight to aid production planning and procedural best practice, not only strengthening safety and optimising customer satisfaction but unlocking the potential for efficiency savings too.
In addition to the international expansion of the solution, Checkit is aiming to introduce new capabilities into bp, including label printing and barcode scanning to further assist with stock management.
The intelligence being generated is delivering value to the business in numerous ways and, by working closely as a partner, Checkit aims to continue unlocking new ways to optimise performance, everywhere.
Speak to one of our intelligent operations experts
Interested in how an intelligent operations platform like Checkit can improve your operational efficiency?
Request a demo with one of our experts to see Checkit in action and find out how it could help your team.