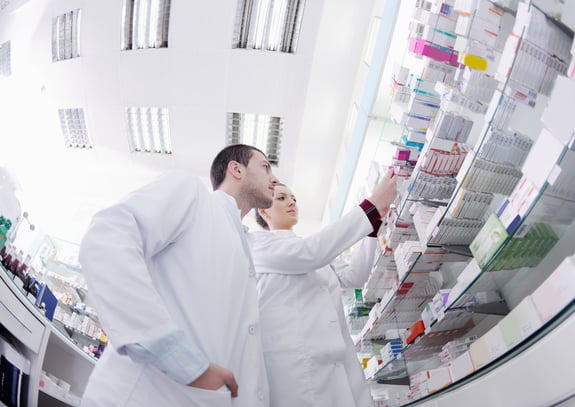 How Birmingham & Solihull NHS Trust uses Checkit to digitise monitoring so staff can focus on clinical duties
Overview
Birmingham and Solihull Mental Health NHS Foundation Trust has gained greater control over medicine storage temperatures across more than 40 sites following the introduction of Checkit technology.
Busy nursing staff were struggling to keep up with regular fridge checks.
A costly fridge failure and CQC inspection report highlighted the need for a new approach.
To address the problem of inconsistent monitoring procedures and enable staff to concentrate on clinical duties, the Trust sought an automated monitoring solution. Checkit is now providing real-time monitoring across all sites, including alerts that provide immediate notification.
Live insight provides the central pharmacy team with evidence of compliance and immediately identifies issues that need corrective action, protecting valuable stock, ensuring the efficacy of medicines and giving the Trust inspection-ready status.
The challenge
Nursing staff too busy for fridge checks
Birmingham and Solihull Mental Health NHS Foundation Trust operates out of more than 40 sites, serves a culturally and socially diverse population of 1.3 million. It has a dedicated workforce of around 4,000 staff.
A wide range of local and regional services and partnerships covering inpatient, community and specialist mental healthcare make it one of the most complex mental health foundation trusts in the country.
A range of medicines requiring cold storage are stored in over 90 medical fridges across the Birmingham and Solihull Mental Health NHS Foundation Trust's inpatient wards and outpatient clinics. Refrigerated medicines include vaccines, insulin and controlled drugs, some costing up to £700 per item.
Staff were equipped with a monitoring chart and a simple maximum-minimum thermometer to record fridge temperatures. But the conflicting pressures of clinical demand and limited staff numbers created difficulties.
Nigel Barnes, Director of Pharmacy & Medicines Management at the Trust, said "Ward staff face many competing priorities and the clinical needs of patients will always take priority. When we inspected charts we often found gaps where staff had been simply too busy to carry out fridge checks. We wanted to find a way to reduce the number of non-clinical, administrative duties falling on nursing staff."
"The dashboard gives me all the information I need, wherever I happen to be and whenever I need to check. This system puts everything in one place– and being web-based we can see which wards are doing well and which are not."
Nigel Barnes
Director of Pharmacy & Medicines Management
The Solution
Automated monitoring at all times
The Trust wanted to introduce an automated monitoring system that would improve the accuracy and consistency of fridge temperature measurements across all sites and take the administrative burden away from frontline nursing staff. The Pharmacy, IT, Estates and Procurement teams collaborated to launch a formal tender process.
The Checkit Automated Monitoring solution was identified as the best option based on several criteria. A key factor was the easy integration of Checkit with existing IT networks and infrastructure, with many other monitoring systems presenting complexities.
"A lot of systems used radio sensors connected to a central server, which was not acceptable to the IT team," said Nigel. "Many of the suppliers we considered failed on that point alone.
"Checkit is fully compatible with our network. The sensors are connected to local hubs which transfer data through our network so that the data is securely stored within Checkit's cloud system. As a result of that easy integration, the installation was smooth and the helpdesk provided valuable support, especially in the early stages."
Following a successful trial covering the five fridges in the Trust's central pharmacy, Checkit's automated monitoring solution was rolled out across the Trust in 2018.
A total of 81 fridges are now remotely monitored in real time, with live data feeding into a centralised dashboard.
A procedure was developed for follow-up actions related to ward monitoring and staff were given training to ensure all-round efficacy.
The Outcome
Digital insight enables constant protection of medicines
The Checkit system is providing the Trust's pharmacy teams with a new level of insight into the performance of fridges across all sites.
Having a complete bank of monitoring data stored digitally means the Trust has evidence of compliance and is inspection-ready at all times.
Nigel Barnes said: "The dashboard gives me all the information I need, wherever I happen to be and whenever I need to check. This system puts everything in one place– and being web-based we can see which wards are doing well and which are not. I can pick up on any issues, alerts that have not been actioned or any indications that fridges may not be working properly. Unit managers and ward managers can also access the data for their areas. The system is really coming into its own. It helps us understand exactly what's happening on the frontline."
With this data at his fingertips, Nigel can easily contact any sites experiencing problems, highlighting potential issues and reminding them of anything that needs to be addressed. He's also able to take screenshots of graphs and email them to wards to provide additional insight on anything that's going wrong.
"With the previous thermometers we didn't know how long any temperature excursion may have lasted for," said Nigel. "Now I know exactly what the breach was, where it was and how long it lasted, so I can make better judgments about the next steps. If a ward contacts us, we can see the graphs and advise accordingly."
Another helpful feature of the Checkit automated monitoring system is that, given relatively high staff turnover, Nigel can regularly check the list of staff receiving alerts and make immediate updates.
Nigel also has greater confidence in the results he received. "The sensors are checked, calibrated and replaced on a regular basis, so we have the assurance that the hardware is effective at all times."
In addition to medicines fridges, the Trust's catering operations are also using the Checkit system, ensuring food is stored, prepared and served at the correct temperatures to ensure the highest levels of safety. The total number of active Checkit sensors across the Trust is 165.
Speak to one of our intelligent operations experts
Interested in how an intelligent operations platform like Checkit can improve your operational efficiency?
Request a demo with one of our experts to see Checkit in action and find out how it could help your team.