Augment your frontline workforce with guided workflow software and smart sensor automation from Checkit.
Checkit transforms organizations like yours, thanks to its intelligent mix of automated monitoring sensors, workflow software and AI-driven analytics.
400+ organizations rely on Checkit to improve their…
Safety
Squash and solve problems before they strike.
Compliance
Never fail an audit or inspection again.
Efficiency
Augment your workforce to eliminate wasted staff hours.
Sustainability
Empower your business to work without waste.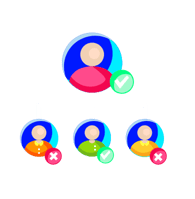 Innovation
Ready your organization for a smarter tomorrow.
AUTOMATE
Checkit's monitoring sensors autonomously capture and interpret information, and trigger responses when required. This frees your staff from manual checks, ensuring they focus only on the highest value activities that drive your business forward.
ASSIST
Checkit's workflow software helps your team carry out important actions more efficiently and collaboratively. Intelligent workflows can be triggered by sensor prompts or scheduled to guide and enhance staff performance, all the while capturing data for immediate access and analysis by managers.
ADVANCE
Combining automated monitoring and intelligent workflows enhances the performance of your team and arms you with the data and analytics you need to further optimize processes and advance the safety, efficiency and compliance of your business-critical operations.
Advance your organization with a platform that automates and assists the frontline.
Checkit helps operational leaders like you maximize the efficiency and effectiveness of your frontline staff and organization as a whole - whether you're there, or not.

Enhanced productivity, operational compliance, improved profit margins and safer working environments are all achievable when you introduce Checkit.