The only operations platform of its kind
Checkit's platform is built to capture all of your frontline staff activity. Drive greater safety & compliance and increase productivity, through healthier environments and happier staff.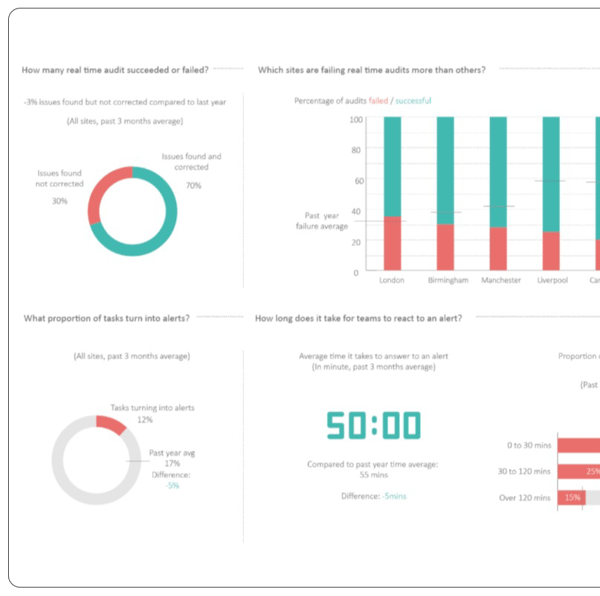 Smarter people
An easy-to-use app that prompts and guides your staff.
Advanced workflows drive rich digital content straight to your staff at the time of need. Checkit makes tired old checklists and paper-based procedures a thing of the past.
Workflows that adapt to the needs of your staff
Our digital assistants respond to the ever-changing environment around them. Fully integrated with our sensors physical objects can trigger staff actions and alerts. Best of all every action is captured and measured.
Dynamic workflows
Rapidly build, test and deploy new workflows using a simple to use drag-and-drop workflow editor, so you can adapt to ever-changing environments and demands.
Cloud scale
Capture all your deskless activity safely and securely in the cloud so you can track and manage all of your operations from anywhere at any time.
Dashboards and reports
Out-of-the-box dashboards and customised business intelligence reports help you uncover insights and make better decisions.
Automated alerting
Don't wait for bad news to hit your desk. Get instant notifications and guidance so issues are resolved the moment they happen.
Share tasks with colleagues
Collaborate on shared activities from within the app, remove duplicated effort and prevent information silos.
Targeted activities
Ensure activities are prioritised by the right team members, in the right place at the right time with context-aware workflows.
Smarter assets
Don't wait for your assets to fail and your stock to spoil.
Connect your fridges, freezers, hot holds and chillers to automated workflows using our wireless probes and sensors. 24/7 monitoring and automated alerting means your staff are made aware of issues instantly.
Sensors designed to be
quickly and easily installed.

Medical grade temperature monitoring
Ensure safe and compliant storage of critical medical inventory, from vital medicines to laboratory samples, with our fully certified and calibrated systems.

Cold storage temperature monitoring
Measure the temperature of your fridges and freezers, and wirelessly transmit the readings to drive manual investigation or other services.

Hot hold temperature monitoring
Self-contained wireless sensors that operate at up to 100°C, for applications including hot-hold food storage.

Wireless sensor hub
Our hub and repeaters create a low-power, secure sensing network across your sites, using your ethernet, WiFi or connecting to 3G, 4G or 5G.

24/7 call center
One of our specialist team will escalate alerts to your team, assigning each one immediately to the right member of staff.
Smarter buildings
Stop wasting water and energy as part of manual pipe flushes.
Prevent unnecessary engineer trips, heating costs and water wastage. Checkit's discreet IoT sensors make sense of the tiny temperature deviations on your pipes so you know in real-time when they've been flushed.
Sensors the size of a postage stamp.

Humidity detection
Improve the lifetime of your assets and maximise the comfort of occupants with relative humidity monitoring and preservation.

Touch detection
Trigger a manual intervention or automated response every time the touch sensor is triggered.

Leak detection
Protect buildings and equipment by detecting water ingress or leaks before they cause lasting damage.

Temperature sensors
Measure the surrounding temperature of your estate and wirelessly transmit the readings to drive manual investigation or other services.
Proximity sensors
Use proximity sensors on any door or window to measure everything from restroom occupancy to security.
Speak to one of our operations experts
Interested in how an Checkit can improve your operational efficiency?
Request a demo with one of our experts to see Checkit in action and find out how it could help your team.