How annoying is it when you think you've built the perfect workflow to capture all the right steps and inputs, but then your workforce manages to enter complete nonsense?
Here at Checkit we are always looking to make even those small improvements that mean you get the right results every time. In our latest release we've improved the functionality surrounding our number checks that allows you to validate the minimum, maximum values allowed, and even what increments the numerical inputs can be entered in. This will help improve your reporting and data inputs.
For example, if the workflow user is being asked to enter several items of stock and it is known that that stock always come in bundles of 3, you can now limit the entry to multiples of 3 only. This will help prevent the situation where some workflow users enter the number of packets while others the total number of items contained within the packets, which would cause inconsistent / inaccurate reporting.
How Does It Work?
Using this new option you can limit the numerical value a checklist user can enter by specifying a Maximum and a Minimum acceptable value and an acceptable multiple ('Step'). Previously using the Numeric Validation type (still available) you could only ensure numbers rather than characters were entered.
If you enter 1 as the Step value then the user can enter any number between the maximum and minimum you specify. If you enter minimum '1' and maximum '12' and enter '3' as the Step value, the checklist user will be able to enter '3', '6', '9' or '12', only. Use the Input Prompt field to explain this to the user: "please enter multiples of 3 only", for example.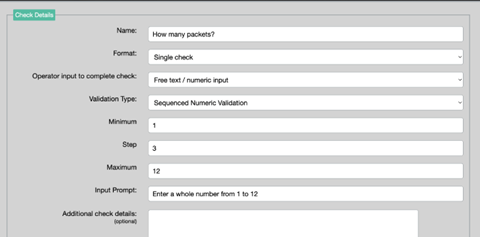 How do I get it?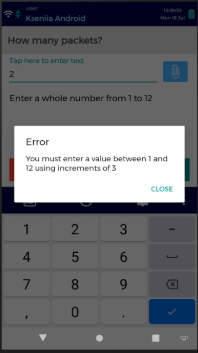 This improveme
nt is in version 3.2.0, which will shortly be
available from the Google Play store.
Also in 3.2.0 are some small bug fixes for Time Delay Checks to address some issues around the display flickering and the check not being clickable is some minor use cases, and missing Probe icons.
It's autumn here in the UK, but we're keeping busy on the next set of updates to the Checkit app. Keep an eye out for version 3.2.1 which will be coming soon!
Not familiar with Checkit's workflow management solutions? Find out how Checkit can give your workers greater autonomy and control over their work. Replace pens and paper with digital assistants, and provide on-the-job learning opportunities to help develop their skills.