See your sites from a bird's-eye view, and wave goodbye to wasted stock, lost time and forgotten tasks.
Managing food safety at one site is challenging enough. But what about 10 sites? Or 100? That's where Checkit comes in.

Our Connected Automated Monitoring (CAM) sensors and Connected Workflow Management (CWM) software together with our Operational Insights dashboards give you unprecedented visibility across your entire operation.

No matter how many sites, what time of day, or where you are in the world.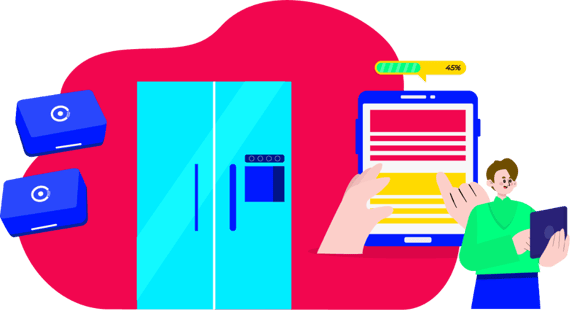 Results that speak for themselves.
$288k
in reduced stock loss
15k hrs
reduction in management auditing time
350%
increase in operational compliance
Automating manual checks. Digitizing busy workforces.
Right now, you are likely recording critical HACCP checks manually with pen and paper. It's arduous, time-consuming, and prone to gaps and inconsistencies.
A digital food safety system like Checkit automates these checks for you - using wireless temperature sensors to capture around-the-clock data, that's rapidly transported to your online system software.
But that's not all that Checkit does. Far from it.
Log into the Checkit Control Center, and you'll be able to see and manage your operation from an entirely new perspective.
See which checks have happened, and which haven't
Whether it's kitchen set-up, close-down, stock prep or cleaning, you can see which checks are happening, and which need actioning.
Monitor responses to incidents
in real-time
See how your workforce responds to issues as they happen, and prompt staff to complete urgent checks from anywhere.
Have the power to escalate issues as they happen
Be in the know whenever an alert is raised, and quickly escalate them from ground staff to management with a click.
Quickly share tasks with colleagues
Keep teams on track and accountable with their own key tasks to aid your operation's compliance and productivity.
Save time across all your sites
Leverage powerful data to make better decisions, and inform custom workflows that improve productivity for all your teams.
Enjoy true peace of mind
Find comfort and confidence in a robust, dynamic system that always gives you the whole story, whether near or far.
"Each Checkit unit has
saved an hour's labor each day.

That might not sound much, but when you talk about the entire Center Parcs UK operation, it represents over

20,000 hours per year.

We can now reinvest that saved time back on the business,

improving controls and training people".

Gavin Riley
Operations Program Manager, Center Parcs
Monitor responses as they happen.
Monitoring multiple sites nationwide is usually a Herculean task.
Not for Checkit.
Checkit grants unrivaled visibility and a bird's-eye view across all your sites from anywhere. Launch your connected workflow management software, and you'll have all the facts within seconds.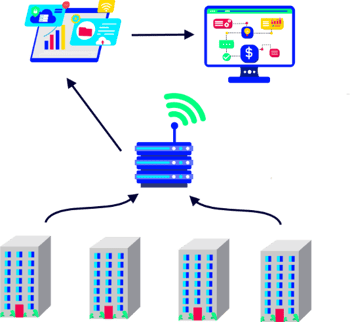 How can our digital food safety monitoring solutions benefit you?
Save staff time and effort by automating manual temperature checks.
Prevent stock loss, wastage, and unplanned
maintenance bother.
Slash software training costs with a simple step-by-step digital guide.
Improve operational compliance and ensure you're audit-ready.
See more than ever before, and know the areas requiring more resources.
Spread the cost for true peace of mind.

We do digital food safety differently
Rather than making you pay in full and up-front for your sensors and software like the rest, we spread the cost over time with a helpful subscription service.

Our generous subscriptions have you benefitting from Checkit's sensors and workflow software quicker, as well as enjoying full warranty and system support for the entire length of your contract.
Now that's what we call true peace of mind.
One easy-to-manage fee each year
Ongoing system support, maintenance and parts warranty
Stress-free compliance and performance all year, every year
No hefty upfront payments
No nasty hidden fees or unexpected costs
No interruptions or irregularities in your compliance
Looking to learn more? Our guides can help.
Something we missed?
Checkit has a solution for all your temperature monitoring needs. Book a meeting today, and start improving your compliance and care tomorrow.